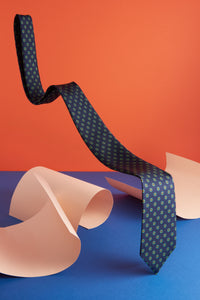 Fully handmade self-tipped tie with dark blue silk tipping.
The double interlinings are perfectly balanced with the shell keeping the tie always harmonious. The bar-tack is handmade and covered with the iconic saffron tissue. It is sewed 20 cm from the end of the blade increasing the quantity of silk used for tipping: this choice is important to keep the shape of the blade always perfect.
Each tie is sold in its iconic box.

Construction

THE SHELL:
Silk twill from the best silk factories in Como.
The polished finishing is selected to create a soft sensation keeping all the main features of the silk.

THE INTERLININGS:
Double lining: mid-weight pure virgin wool and brushed cotton. This particular solution helps to create a compact tie perfect for every knot avoiding wrinkles.
How to wear
Each Quartieri tie can be easily paired with all the classic outfits.
Ennio is the perfect marriage between elegance and wise levity. Suitable for your day, it's in perfect harmony with dark blue suits, grey (both light and dark), solid colors, stripes or pinstripe, or even with the classic coordinated jacket and trousers. The connoisseurs can pair it with a Solaro. The blue background is studded with a light green flower with an orange heart, highlighted by a precious thread.

Measurements
Length: 150cm (59in)
Width: 8cm (3.14in)